Fun Halloween Party Drink Ideas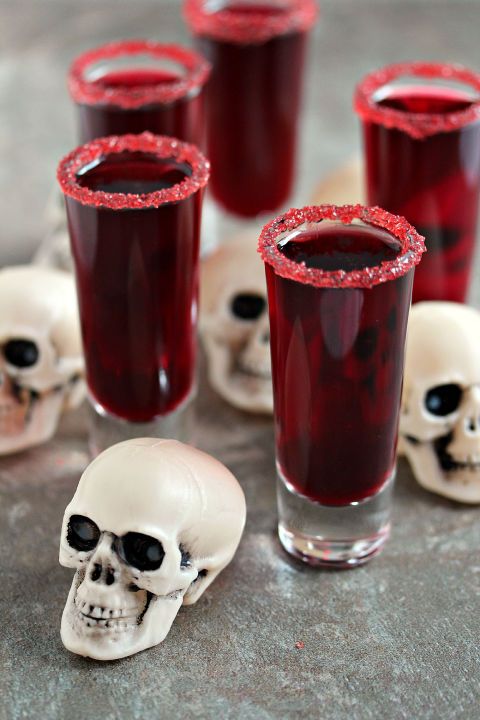 Check out these cool, fun party drink recipes sure to make any Halloween party a scream!
Pumpkin Spice Punch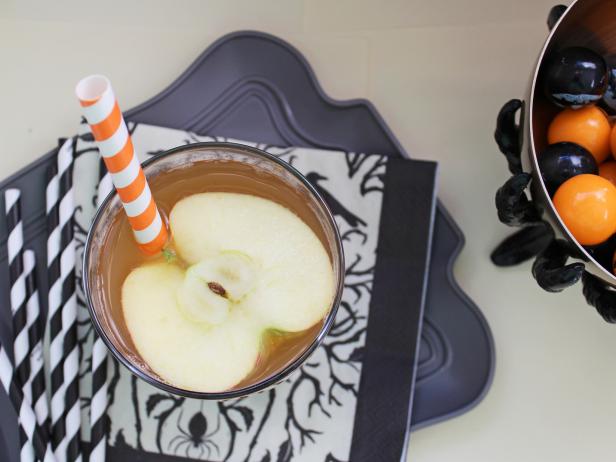 Ingredients:
2 honeycrisp apples
2 pears
1 orange
1 tablespoon lemon juice
1/4 cup honey
1/4 cup brown sugar, or more to taste
1 cup bourbon
3 cups apple cider
1/2 teaspoon pumpkin pie spice
2 bottles pinot grigio, chilled
1 pumpkin, for serving (optional)
Directions:
Thinly slice apples, pears and oranges lengthwise, then place in a large bowl. Coat with lemon juice to prevent browning. Add honey, brown sugar, bourbon, apple cider and pumpkin pie spice, stirring gently to combine. Cover and refrigerate for 2-4 hours, or overnight. Top with chilled pinot grigio and serve. For Serving Serve in a pitcher or punch bowl, or give the punch extra Halloween flavor by serving inside a Jack O' Lantern. Cut a circle in the top of a large pumpkin, then completely remove seeds and pulp. Fill with fruit and punch, then enjoy!
Easy Apple Cider Champagne Cocktail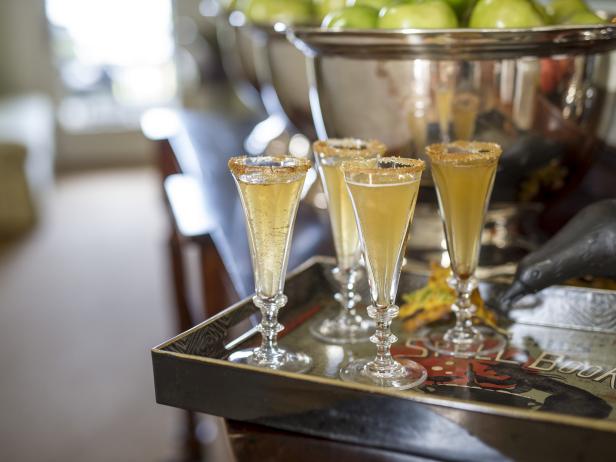 Ingredients:
Pumpkin pie spice
Raw sugar
A nice, dry champagne
Apple cider
Apple brandy
Directions: 1: Combine pumpkin pie spice and coarse sugar on a small plate and set aside. Pour a small amount of apple cider in shallow dish. You'll use the sugar mix and apple cider to rim the glasses. 2: Dip the rim of the glass in the apple cider then dip into the spice mixture. 3: Fill each flute ¾ of the way with champagne and top with a splash of apple cider and apple brandy. Witches' Brew Ingredients: 2 oz. mixed pineapple and cranberry juice 2 oz. 7-Up or Sprite 1-1/4 oz. shot Malibu Coconut Rum Preparation: Mix juices and 7-Up or Sprite in a highball glass. Pour shot of rum down the side of the glass right before drinking.
Morgue-A-Rita Ingredients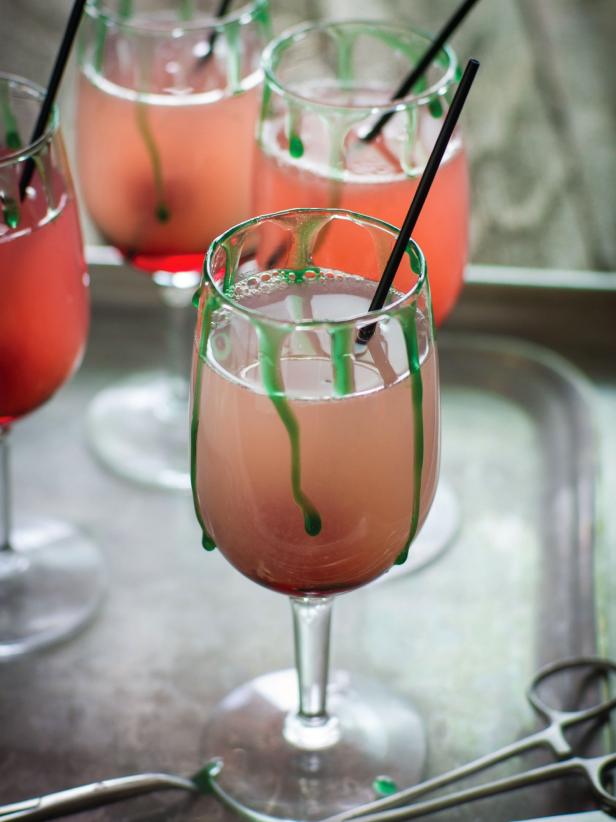 Goo:
1/4 cup light corn syrup
green food coloring
Cocktail:
1/2 cup fresh lime juice
1 cup club soda
3/4 cup tequila
3 ounces triple sec
4 cherries
4 teaspoons maraschino cherry syrup
Yield: 4 cocktails
Directions: Mix together 1/4 cup light corn syrup with green food dye. Tip: Start with just a little coloring and add until you get the desired color then set aside. 2: Place glasses in the freezer to frost them. When frozen, dip each glass into the green syrup and invert to allow the syrup to drip slightly. Return glasses to the freezer to set. 3: Insert stirrers through maraschino cherries for each drink and set aside. 4: Juice the limes and strain if desired to remove pulp (Image 1). 5: Combine tequila, triple sec and lime juice in a cocktail shaker with ice and shake until very cold (Image 2). 6: Pour one teaspoon of the maraschino cherry syrup into the bottom of each glass. Add a cherry and stirrer to each glass. 7: Carefully pour the margarita mixture into each glass till about 3/4 full. Tip: Pour very slowly to avoid disturbing the syrup on the bottom. 8: Top off each drink with 1/4 cup club soda and serve immediately.
Witch's Hat Cocktail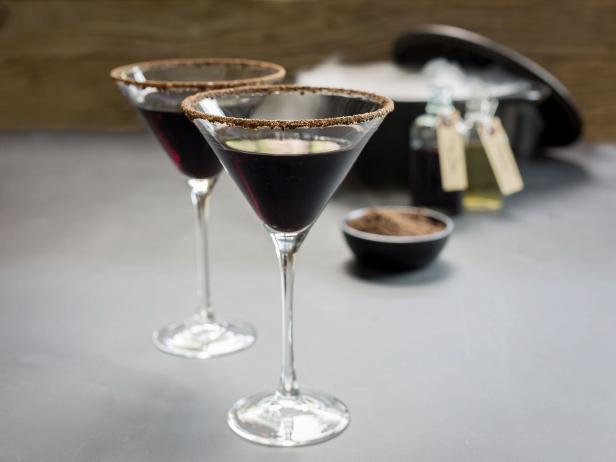 Ingredients:
2 ounces black vodka
1 ounce black Chambord
2 ounces dark cherry juice
ice crushed
chocolate wafers for garnish
light corn syrup (optional)
Yield: 1 cocktail
Directions: 1: Lightly dampen the rim of a martini glass and dip in crushed chocolate wafer crumbs. Set aside. Tip: for better adhesion, dilute two tablespoons of light corn syrup with a few drops of water. Use your fingertips to apply the syrup to the rim of the glass. 2: Place vodka, Chambord, and cherry juice in a cocktail shaker filled 2/3 with ice. Shake until jet cold (about 20 seconds). Strain the cocktail into the martini glass and serve.
Bloody Orange Cocktail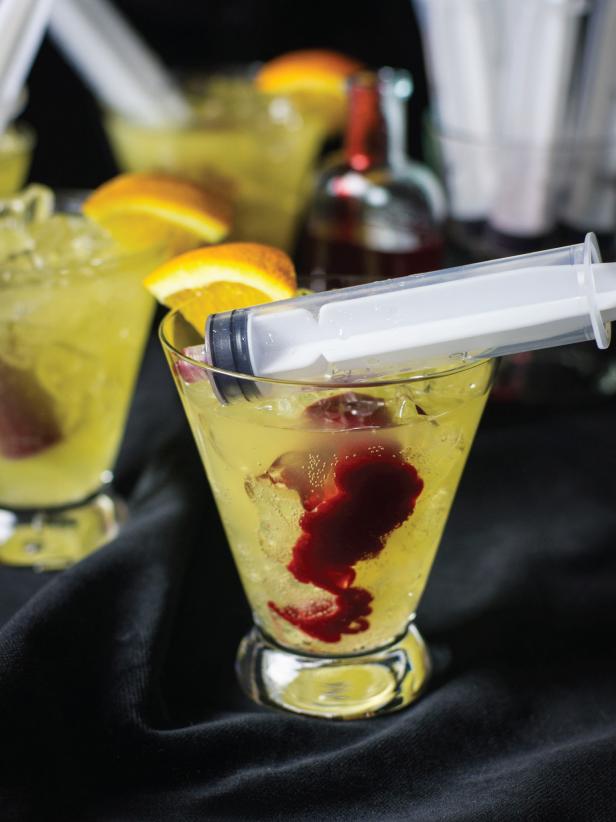 Ingredients:
4 ounces vodka
2 ounces Licor43
8 ounces Orangina or 1:3 orange juice to club soda
3 ounces raspberry syrup (recipe follows)
1 orange plastic syringes (available at party stores)
Yield: 4 cocktails
Instructions 1. Puree 2 cups of fresh raspberries in a food processor. Press the puree through a fine mesh strainer to extract the pulp, then discard the seeds 2.Place the puree in a small saucepan with 1/4 cup of sugar. Heat over medium-low heat, stirring frequently until thick and dark (about 10 minutes) and let cool (Image 1). 3.Fill each syringe with .75 ounces of raspberry syrup and set aside (Image 2). 4. Add vodka and Licor43 to a shaker with ice, shake until very cold (about 20 seconds). Add Orangina and stir. Pour into iced glasses and place filled syringes in drinks. 5. Add an orange wedge to the side of each glass and serve.
For more festive drinks check out: HGTV.com